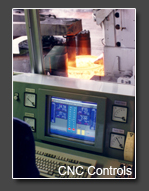 Welcome to Burke Forging & Heat Treating, Inc.
At Burke, we specialize in Open-die forgings, whether they are bars, shafts, discs, blocks, hubs, pinions or rings (forged or rolled), all are manufactured to exacting standards and can be furnished from 2 lbs. to 8000 lbs. in weight, machined to customer requirements or supplied smooth forged with allowance. Our extensive in-house inventory of carbon, low-alloy and stainless steel as well as select nickel-base alloys, enable Burke to provide its customers with minimal lead-time.

Burke Forging is located in Rochester, New York and serves the entire Continental United States and Canada.